| | |
| --- | --- |
| Consultation | |
Individuals
My clients are generally successful, self-aware people who wonder why they can't do something they want to do: enjoy the moment, let down their guard, marry, advance in their career. My job is to understand the way they function — what smooths their way, what derails them, and (especially) what emboldens them to act on their own behalf. To that end, I use questions, observations, and anything else I can come up with.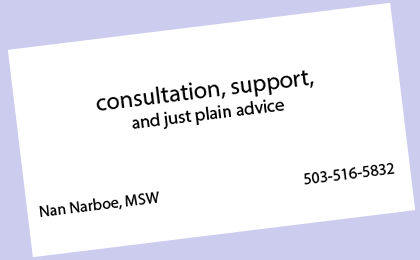 Couples
The heartbreaking problem that many couples face is that too much remains unsaid — because one or both partners imagines the other cannot hear what they need to say.
For that reason, I provide the couple with questions to help them prepare for their first session, and start to "speak on their behalf" as soon as I can. I also work with siblings, parent/adult child pairs, and business partners.
To learn more about Collaborative Couples Therapy, which I also teach, go to danwile.com or read After the Honeymooon: How Conflict can Improve Your Relationship, Revised Edition.
Companies
Businesses require skill and capital. They also require trust. Sometimes that trust breaks down and businesses hire me to address the problem using small group meetings and/or individual coaching. The goal is increased effectiveness (as measured by growth and profitability) and reduced stress (as measured by fatigue, waste, and employee turnover).
Insurance and fees
I don't take insurance or do billing, but I may be able to help you find a good therapist who does. My fee is the same for individual and couples work: $200.00